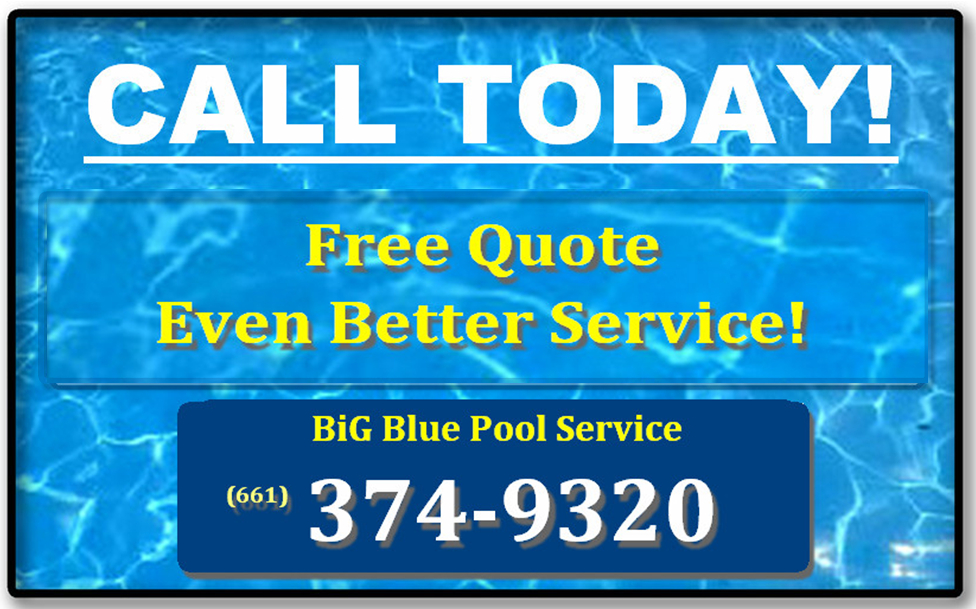 Your swimming pool in Bakersfield brings an enormous responsibility.  The enjoyment of your pool begins with maintaining the cleanliness of your water and upkeep of the pool equipment – and that can be a headache.  Maintaining your pool is no small task and if you don't know everything that's required, you may find it far better to employ a high quality pool service – Big Blue Pools. Correct pool cleaning is necessary to maintain the visible water clarity and to decrease the chance of transmitting bacteria which can cause disease. An unbalanced swimming pool can cause skin and eye soreness and lessen the lifespan of pumps and filters.  That is where the value of  a professional pool service company becomes very evident.
The hassles of pool and spa maintenance and repairs will  be a thing of the past by leaving your concerns to Big Blue pool service in Bakersfield.  They'll provide pool service, cleaning and any maintenance and pool repairs on equipment.   Big Blue Pools will take great care to correct any pool problems,right away in order to prevent pricey pool repairs in the future. Maintaining the swimming pool sparkling blue and completely operational is where Dan at Big blue pool repair excels.
Big Blue offers regular weekly service visits to maintain the correct degree of chlorine and alkalinity, ph levels, and  limescale hardness which will protect the pool equipment and keep the water looking great. Big Blue can also provide additional services such as: clean up after storms, and help to get the pool ready to closed up for the fall.
So when you need quality pool service – expect Big Blue Pools in Bakersfield to make your pool sparkle – Great Prices – Even Better Service!