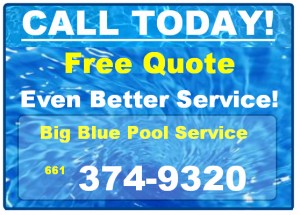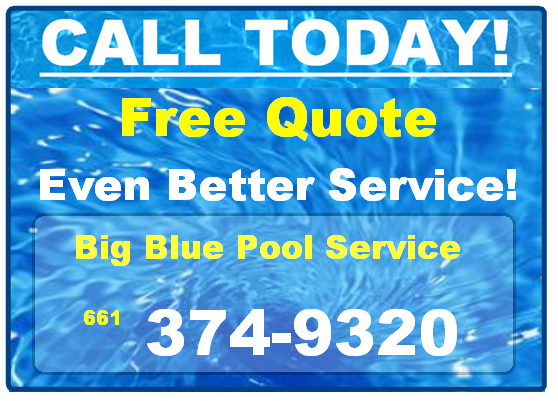 Do you have a swimming pool in your home – Pools can bring many great many benefits, they are a blessing (and a curse at times if not kept up).   Your swimming pool provides you exercise, recreation, leisure and socialization. The swimming pool can also add beauty to your backyard. However, the best benefit will come when you want to relax after a hot and tiring day.  In those times, it seems as though you feel completely refreshed after a dip in a cool swimming pool on a hot day. But, if you don't take suitable care of your swimming pool, you will be in for a challenging time through the summers.   You have enough on your plate; why not consider the help of professional pool service:  Big Blue Pool Service – Bakersfield to make sure which the pool is well cared for.
Here are some thoughts on pool maintenance:
Swimming pool maintenance can be costly – keep up a list of possible pool issues and stay ahead of the repairs where you can. Whether you have an in ground or above-ground swimming pool, with good maintenance you can stay ahead of expensive repairs. Regular maintenance can guarantee that your swimming pool remains at a maximum usable state throughout the season.

Living in a hot area like Bakersfield, your pool will require to be maintained more often, especially the chemicals as the sun can quickly empty your pool of chlorine.

The weather and the frequency of use are both important factors which determine the condition of your pool.  Professional services like Big Blue Pool Service Bakersfield can help you maintain the best pool chemistry.

Quick tips to watch for: Pool chemistry which includes chlorine levels, and ph level.  Those two areas go along way toward keeping your pool swimmable.

The next issue is algae development in the pool. These organisms start as invisible to the eye and can gradually turn the your pool water yellow and murky.  Check the pool visually every weekend and use ample chlorine to curb the growth of algae. If algae is not controlled, algae can result in damage to the swimming pool filters.  If you find algae in the pool, either contact Big Blue Pool Service Bakersfield or use a recommended algaecide.
Conclusion Good pool knowledge is a key to keeping your pool working well throughout the season.  If you decide that the pool is more than you have time to deal with, call us here at Big Blue Pool Service Bakersfield and we'll gladly provide you with a free quote for the best pool service that you could ever imagine.  Call Dan: